Our Story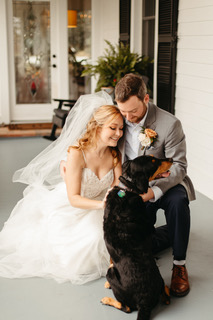 HighRock Farms is the realized vision of Oxford residents Beth and David Hollister, who came to the Triangle from the Buffalo area of New York nearly 30 years ago. Quickly falling in love with the natural beauty, easy charm, and gracious and kind community members, they set down roots and started their family and began pursuing their careers, Beth as a nurse at Duke University Medical Center and Dave establishing a real estate appraisal firm in Durham.
Over time, the pair pursued a number of professional and business opportunities and developed a deep commitment to the economic growth of the area which had been so key to their own success. They helped launch several area businesses including Piedmont Research Center, a cancer research facility in the Research Triangle Park, Wine Authorities, Bull City Burger and Brewery and Pompieri Pizza in Durham.
The phenomenal success of Bull City Burger led Beth and Dave to explore raising high-quality beef cattle and sheep for farm-to-table restaurants, leading them to purchase the breathtakingly beautiful 200-acre HighRock Farm in Oxford in 2014. They quickly realized their amazing home and farm could serve as a perfect site for various custom events, including everything from weddings & corporate retreats to any special event a client could envision!
With this vision in mind, they immediately proceeded to redesign the elegant main house and create a custom event space. The result was exacting what they dreamt for and has become one of the premier "destination" event spaces in the Triangle.
Today, the Hollisters continue to grow their vision and share their dream farm with anyone hoping for a beautiful, unique, worry-free experience, with full attention and customization from the very first planning stages to the very last detail, with services provided by their experienced team and knowledgeable vendors.
They invite you to call or complete the website contact form now to discuss your ideas for your perfect dream event or to schedule a visit to beautiful HighRock Farms!
Why We're Different
Recognizing that there are many places throughout the Triangle and surrounding area where people can hold events, Beth and David wanted to "host" events. They knew that the experiences they would help create, as well as the farm itself needed to be something that was unique and special. And, knowing how difficult and overwhelming coordinating and planning an event can be their focus became making that experience exceptional.
This made their focus a natural fit – creating "not just an event, but an experience". For them this meant exceptional service that made each event effortless, smooth, easy, and enjoyable. For most people planning an event can be truly overwhelming and very stressful. At HighRock Farms it isn't. All of the creation involves expert and very experienced team members and service providers who take the worry out of it all!
From the very start, the team members focus on every detail. They listen to your vision concepts, walk you through the process, and outline expectations so that everyone knows they are on the same page and there are no surprises, and creating an event that is beyond your wildest dreams!